Our dental team is one of the most experienced and knowledgeable in our area. We work hard to make sure that your visit runs as smooth as possible and that you receive the utmost in care. We truly enjoy seeing a smile on your face as you leave our office.
Click on the category below to see all our other staff members:
---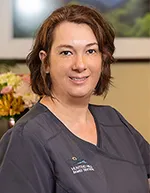 Loriann Webb
Lori Ann has been a member of our team since 2002. She is Dr. Smith's main assistant. She is very meticulous in her work as an assistant and takes her job very seriously. She will make sure all of your dental needs are met. When she is not working, she enjoys spending time with her family, son and reading when she has time.
---
Cindy Richards
Cindy joined our team in 2009. She enjoys assisting and getting to know our patients. She grew up in Rockbridge Co and moved to the Roanoke Valley in 2007. Cindy has worked in the dental field since 2000. When she is not working, she enjoys spending time with her husband and her son. Cindy also enjoys gardening, cooking and is also very active in her church.
---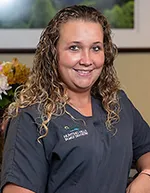 Britney Ayers
Britney joined our team here at Hunting Hills Family Dentistry in April of 2016. She has been working in the dental field for over 11 years now. In her spare time, she enjoys racing, truck pulling, camping and spending time with her daughter.
---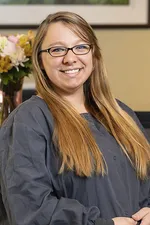 Skyler Francisco - Lead Assistant
Skyler joined our team in July of 2018. She attended Danville Community College where she earned her certification in Dental Assisting and has been assisting for more than 8 years now. Skyler says she absolutely loves her team and her work environment here at Hunting Hills Dentistry. When she is not working Skyler loves spending time with her family and her son.
---
Zachary Engelhardt
Zac joined our team in August of 2020. He attended The Institution of Dental Technology in Florence KY where he earned is certification for an expanded duties Dental Assistant. Zac has been practicing in the dental field for over 9 years. In his spare time Zac enjoys hiking with his beautiful wife and his fur babies. He also enjoys listening to music.
---
Kathleen Borozny
Kathleen joined out team in 2021. She is originally from New Jersey where she earned her registered Dental Assistant certification in 1990. She has worked as an assistant for over 35 years. In her spare time, Kathleen enjoys biking, gardening, baking, and cooking.